Early Onset Dementia: a special podcast series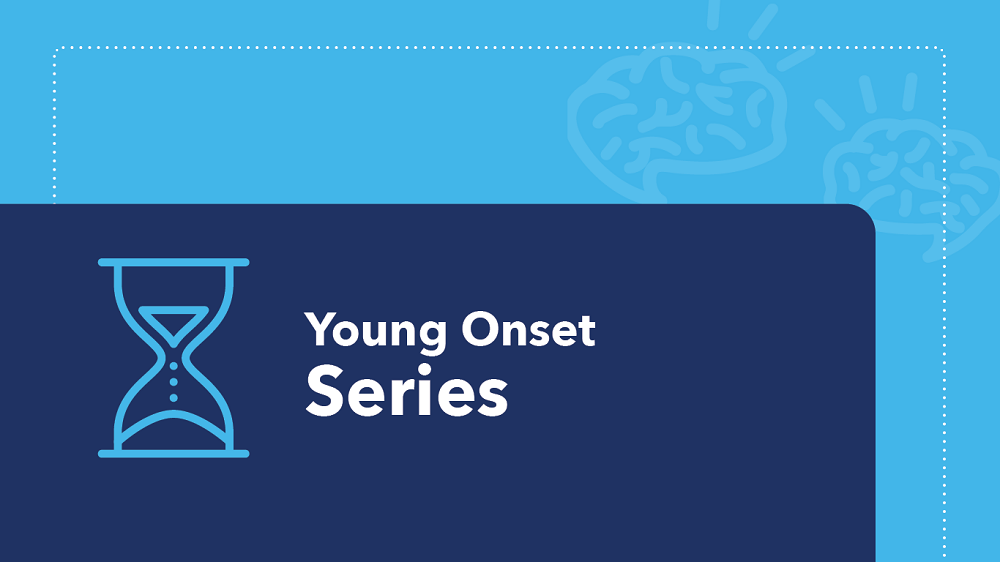 While age is still the most significant risk factor for dementia, people in their 50s and 40s (and even 30s and 20s) can also develop dementia. When symptoms of dementia start before age 65, we call it "young onset dementia." Young onset dementia accounts for an estimated 2 to 8% of all dementia cases, and at least 28,000 Canadians under age 65 are living with young onset dementia. And each of them, and their family members, has a story to tell. Throughout this series, we explore the experiences of young onset dementia through the stories and perspectives of children, husbands, wives, and physicians.
Episode #1: One Family's story on how a diagnosis impacted their lives


Our Young Onset series begins with a conversation between Matt Dineen, a father of three and husband from Ottawa, Ontario and Jillian McConnell, guest host and Knowledge Mobilization lead with brainXchange. Nine years ago, Matt's wife Lisa was diagnosed with Behavioural variant Fronto-temporal dementia (bvFTD) at the age of 43


Episode #3: Changing the Narrative
In this episode of our Young Onset Dementia series, guest host, Kathy Hickman of the brainXchange and Alzheimer Society of Ontario speaks with Jill Czuczman who is care partner to her husband David, living with Frontotemporal Dementia. Jill talks about some of the unique challenges associated with young onset dementia from the long road to getting a diagnosis to leaving the workforce early, the lack of understanding and stigma, to the struggles to find supports that meet the unique needs of those living with or caring for someone with dementia at mid-life. Facing these challenges head-on, Jill shares how she and David have chosen to find the positive every day and the steps they have taken to live well with dementia, including getting involved in research and becoming advocates.

Episode #2: Young Onset Dementia: One family's story Pt. 2: the children's perspectives
Jillian McConnell, our guest host, speaks with the Dineen children: Justin, Rebecca, and Peter who were just 12, 10, and 8 at the time of their mom's diagnosis (9 years ago), about their experiences as younger children learning about their mother's bvFTD diagnosis and now as teenagers / young adults. They discuss the unique challenges they faced and offer perspectives and strategies that continue to help them as they navigate their mother's diagnosis and their relationship with her.

Episode #4: Early Onset-Have a Good Day, Every Day
John and Cindy McCaffrey's motto is "Have a good day, every day". In this episode of our Young Onset Dementia series, guest host, Kathy Hickman of the brainXchange and Alzheimer Society of Ontario talks with them about their experiences of living with and caring for someone with young-onset dementia, how they have built a sense of community and continue to maintain a positive attitude by living in the moment.
John and Cindy discuss how they took action when they couldn't find the "right" supports for someone living with young-onset dementia by creating a program calledYouQuest. YouQuest focuses on providing intentional days for people living with young onset dementia based on providing real-life experiences, all guided by its participants.
Episode #5: Celebrate Life
In this episode of our Young Onset Dementia series, guest host Kathy Hickman of the brainXchange and Alzheimer Society of Ontario sits down with her niece Rachel Broderick of Owen Sound, Ontario, whose Mother and Grandmother both developed and died in their 40s of a rare form of Alzheimer's Disease. (Familial) caused by a genetic mutation. Rachel, along with her brother (both teens at the time), cared
for her Mom, Chantal, who was a single mother. The story of how she bravely faced this experience during her formative years and how it influenced the now 21-year-old woman she has become is truly inspiring. Rachel candidly shares with Kathy why she had made the difficult decision to have genetic testing done to find out whether she has the same genetic mutation and will develop Young Onset Dementia as her Mother and her Mother before she did.
Episode #6: Genetic Testing - To test or not to test?
In this final episode of our Young Onset Dementia series, guest host Jillian McConnell speaks with Dr. Mario Masellis, Associate scientist and Clinician-scientist with the Hurvitz Brain Sciences Research Program, Sunnybrook Research Institute & Sunnybrook Health Sciences Centre; Assistant professor, neurology, department of medicine, University of Toronto and Research scientist, Centre for Addiction and Mental Health. Jillian and Dr. Masellis discuss what genetic testing looks like for someone who has a close family relative that is living with Young Onset dementia, how testing for Young onset dementia is different from other diseases, who is a good candidate for genetic testing, and the implications of deciding to test or decide not to test for Young Onset dementia.